by Tom Simai

In
2007
, a simple idea of then Legislative Speaker, Setong Sena resurrected the ebbed period of the bucolic tribes, which was lost somewhere in search of contemporary comforts. Thankfully, three years later, the petite perception now offers international exposure to not one tribe but most of the tribes of Arunachal, including the neighboring nation, Myanmar. Traditions has altered Arunachal, changed the modern mindsets of Changlang District. It has also modified a sweet sleepy town like Nampong and its neighborhoods into global village or tourism hub, integrating the distinct tribes and cultures that once drifted due to religious differences. It's admirable that the sincere efforts of Tangsa community has coalesced the countless tribes of Arunachal to script together, the triumphs of tribal legacy. Interestingly, this mammoth fair has been able to flatten the many fallacious myths that persisted prior to its origination which was hampering the harmonious subsistence and socio-cultural growth of the tranquil state.
It's an enchanting voyage to the distant land. An adventurous journey to the hidden terrain. The mystic soil of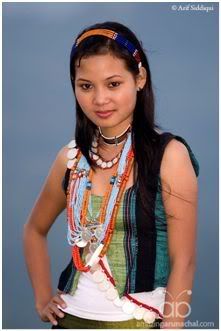 Tangsas, they are one of the major tribes of Arunachal Pradesh, inhabiting in most part of Changlang districts. An unforgettable occasion is unfolding, offering the pleasure to blend the New Year with ethnic amusements. An enriching experiences of Arunachal Cultures and Cuisines. The
Pangsau Pass Winter Festival 2010
is the gateway to the shrouded paradise - Arunachal Pradesh
As the odyssey of discovery penetrates the heart of the ethnic extravaganza, events spontaneously begin to weave unforgettable memories. The rustic lanes, the endless greeneries, the dense foliage obscuring the motor tracks, the plummeting rivulets near the historic Stillwell Road, the birds diving through the tree canopies and the insects in the forest floor makes the visit worthwhile.
During the three-day extravaganza from January 20 to 22
nd
2010, survive the heady thrill of the folk songs and dances, fashion shows, the ethnic food fiesta, traditional sports, the Pangsau Pass expedition, sightseeing, eco-trekking, boating on the Rima & Namchik river, Burmese culture, as well as visits to the World War-II Cemetery, the Border bazaar, The Lake of No Return & The Hell Gate etc.
"Secy. Tourism informed that cultural troupes from other parts of the North East will participate in the festival, adding that she will also invite cultural troupes from North India to give a boost to cultural understanding with other parts of country."
For more details on this festival visit Amazing Arunachal or Contact:Director Tourism
Govt. of Arunachal Pradesh, Itanagar.
0360-2214745
audeshsingh1408@yahoo.com Additional Deputy Commissioner, Jairampur
91-3800-222216,
91-9436835266;
Fax – 03800-223000